Let us link YOU with a DESERVING  student for Direct Sponsorship.
Contact us
Indicate your interest today to offer help by contacting Arise Education Scholarship Foundation.
Become Volunteer
Commit Formally as a Volunteer to sponsor a Child through High School, get the underlying details of your Committment to Take Action.
Show Compassion: Volunteer-
Sponsor A Child!
Because you're compassionate, Sponsor an African Child through High School, so that they can live a normal life in the society; Remember, "Volunteers don't necessarily have the time, they just have the heart" - (Elizabeth Andrew). Connect with Us and we would tag you with a needy kid and their Schools' Administrators! We Don't Accept Direct Donations!
Join Now
Checkout whats going on. Latest News
Arise Education Scholarship Foundation Celebrates 11years in July 2018!
10 APR 2018
In the wake of the realization to give back to society, a man moved with compassion, got the epiphany to start a stop to the literacy deficieny in Africa. Starting from his immediate circle of influence, he intergrated the efforts of like minded individuals to provide education sponsorship to deserving but needy students, to help them realise the undying need to acquire formal High School education and become useful to society, starting from Benin City, Edo State, Nigeria, Africa and the entire brave new World! It is about 11 years on this Mission.
Get Involved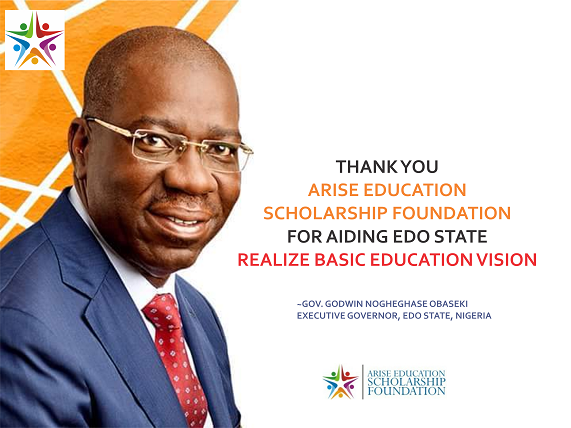 Edo State Governor Commends Arise Education Scholarship Foundation
30 MAY 2018
It is in recognition of our purpose and effort that the distinguished Governor of Edo State, His Excellency, Mr Godwin Nogheghase Obaseki, officially received and appreciated the Founder and Team Members of Arise Education Scholarship Foundation, issuing a formal letter of commendation, admonishing us to continue the good works. We, thus use this medium to appreciate the entire compassionate volunteers and sponsors of this deserving children, knowing that without your great support and wonderful contributions, we could not have traded places thus far.
Get Involved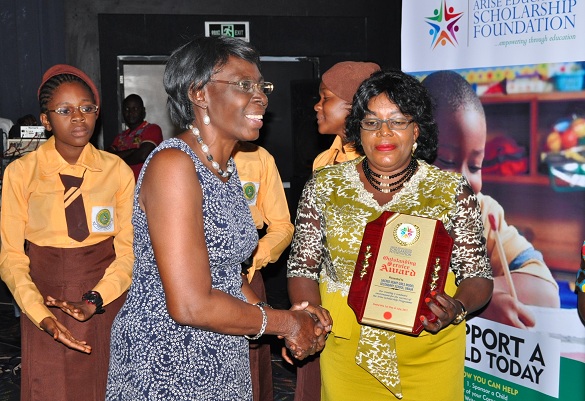 Realizing Purpose in 2018
21 MAY 2018
The year 2017 was an amazing year following the grand celebration of our 10th Anniversary! While Awards were presented to Sponsors, State Leaders and School Administratos, we continued to perpetuate purpose by achieving another round of selection of deserving children and linking them with sponsors. Committed to the realization of the Sustainable Development Goals, Us as a foundation have continued to push the limits. We have reached across the immediate boarders of Africa to other spheres of the world to seek volunteers and compassionate sponsors. However daunting this quest has been, we are not relenting.
Get Involved
Donation Holders say Read Below

"Success is finding satisfaction in giving a little more than you take."

Pioneer + Founder

"If it took giving to take, I'd be glad to give all it takes "

Volunteers Speak

"What weighs us down is not gravity! A little force of kindness can decelerate depravity."